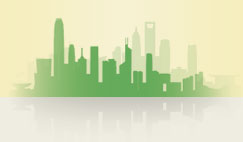 China Studies Program
INTRODUCTION
Many people believe that China will become the world's next superpower. Is that really so? Such statement is hard to dispute when the country's Gross Domestic Product (GDP) growth rates averaging 10% over the past 30 years, becoming the world's fastest-growing major economy. Today, we frequently hear the name China being mentioned not only by news media but also in schools, local communities, as well as for-profit and not-for-profit organisations.
Today, the US and China are two prominent players in international affairs, global economic development and international trade. As the world becoming more globalised, how can we - educators of the 21st century - best prepare our students today to face tomorrow's challenges?
The conclusion is simply that we must bring China into focus in our educational thinking and practice. We need to create vehicles that will educate our children about Chinese history, culture, values, and economics. This will help our children and young adults to be better prepared for their leadership roles in the 21st century. Leaders in this century will face global challenges from emerging countries, especially China. As "next generation leaders," they must learn how to survive and lead amid such challenges to their own culture, in the global environment.
The China Studies Program (CSP) is designed with those leadership aims and challenges in mind. The program offers American high school students an integrated learning opportunity that mixes rigorous academic training with enjoyable cultural experiences.
PURPOSE
The purpose of CSP is to develop participants' knowledge, skills and understanding of China and Chinese culture. At the same time, the group-travel format is intended to develop students' skills in collaboration, cooperation, and other life skills. It is our vision to create a memorable program that is a "once in a life-time" education experience.
OBJECTIVES
• To explore multiple dimensions of China and Chinese culture
• To develop critical thinking skills and creative problem-solving skills
• To focus on learning about real-world challenges in a country like China
• To cultivate an inter-disciplinary outlook
• To gain first-hand experience by travelling in China
• To develop team-thinking, ideas of collaboration and cooperation
FORMAT
Phase I is a distance-learning format that is comprised of learning blocks. Each session is a module. In each module a particular theme on China is assigned in advance by the instructor. Students will interact with the instructor through the Internet using an on-line platform. In each module, teaching formats include asynchronous reading assignments and group discussion, a one-hour live session with the instructor via Skype, and e-mail feedback on essays.
Phase II is a preparation stage where staff will help guide the program participants through a list of things to prepare for the trip. Checklist and instructions will be given during the prep session. Any additional questions will be answered during this stage.
Phase III is a field trip to China and takes place after Phase I and II has been completed. Students will travel to China for 12 days, stopping at major cities in China to visit schools and not-for-profit organizations. Specific cities, activities, and visits are listed in the field trip schedule.
SAMPLE SCHEDULE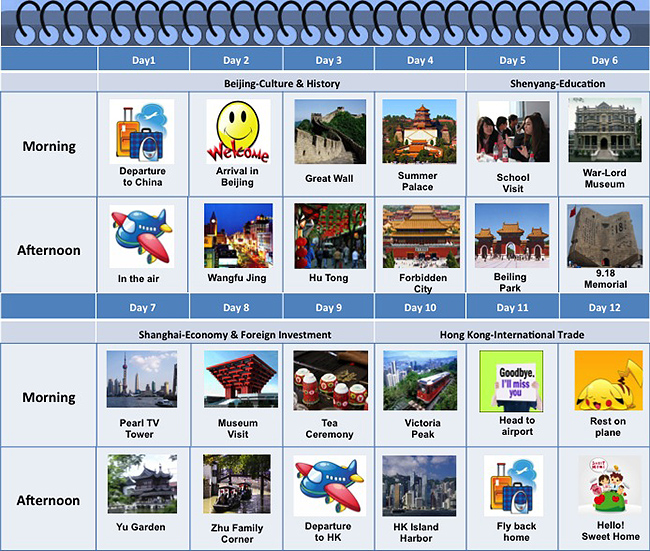 At the conclusion of Phase III of the program, and after returning from China, students will have the choice of writing a paper, delivering a presentation, or creating a project about their China experience. Topic will be jointly agreed between the instructor and the student. They will be asked to compare their book knowledge, learned in Phase I, to their Phase II field experience. They will be asked to discuss their personal perspective and independent out-look on China, and to reflect on what they have learned in the program. The school may choose to organize an exhibit displaying students' work on China.